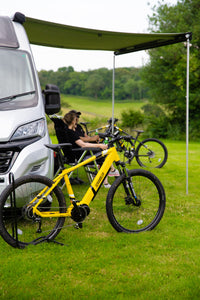 A comprehensive guide to eBikes for RVers
First time eBiker or RVer? Here's a comprehensive guide to eBikes for RVers
eBikes and RVs are a match made in adventure heaven; with electric bikes often considered a much enjoyed enhancement to any road trip experience. So, to help you get the most out of your eBike as an extension of your motorhome, we've put together a comprehensive guide to eBikes for RVers. 
A comprehensive guide to eBikes for RVers
To get the most out of your eBike whilst also feeling free and confident on the road with your RV, we recommend considering the following: 
Invest in a folding eBike or electric mountain bike: folding eBikes are compact, easy to store and convenient for RVers; they take up minimal space and require almost no additional equipment to store safely and securely whilst on the road, minimising weight, space and ineffectual activity! 
Alternatively, if you already own a bike rack and fancy a bike with a sense of challenge, mystery and adventure, consider investing in an electric mountain bike! Fat tyres and a durable frame all help to make challenging terrains a lot of fun. 
Plan your route: planning your route is a must for any RVer, especially when electric bikes are involved as electric bikes need to be charged and, if you don't already have a power station or generator, you may wish to stop en route at charging stations to ensure your eBike always has enough charge to confidently and conveniently make the journey. 
Of course, there's also the option of purchasing a spare eBike battery to take along with you, should you need it. 
It's also worth noting that Mark2 Electric Bikes can be ridden without the battery, should you want to use your eBike as a manual bike. 
Protect your battery from temperature extremes: eBike battery care is essential to the longevity and long term enjoyment of your eBike. eBike batteries should always be stored indoors (i.e. securely within your RV and in temperatures of  between 45 and 85 degrees Fahrenheit (7 - 29 degrees Celsius). Keeping eBike batteries out of direct sunlight and free from moisture is also highly recommended. 
Essentially, try not to leave your eBike battery outside in the sun or near a radiator and make sure it doesn't get damp or, worse!, wet! 
Make the most of your location(s): making time for dinner dates, day trips, picnics at well-known beauty spots and leisurely cycling sessions through woodland and eBike trails is only going to enhance your motorhome experience - made further greater with the use of an eBike. 
For the average cyclist, a 5 mile round trip on an eBike is absolutely achievable, and building a bike ride into your trip will provide you with the opportunity to spend quality time either on your own if you're enjoying a solo trip, or with your loved ones if you're travelling with family and friends. 
Plus, eBikes make a lot of places more accessible AND help you build in meaningful, sociable exercise into your day. 
Remember your waterproofs: especially prevalent if you're taking a road trip within the UK, always ensure you have a set of waterproofs with you - we all know just how much it rains here, and how unpleasant it can feel, getting caught in the rain or in an unexpected storm! 
Check your eBike vitals: just as you would check your RV tyre pressure and oil levels before leaving for a road trip, always be sure to apply exactly the same ethos to your eBike. 
Before setting off on a long RV road trip incorporating your electric bike, make sure you check the wear and pressure of your eBike tyres, lights and battery level(s). And if you're uncertain of anything, ask! Or book a pre-trip service to ensure your eBike is in good condition. 
But, most importantly, enjoy your trip! 
Taking an eBike with you on your next RV road trip can only enhance your enjoyment - opening up a wealth of opportunities; geographically, socially, and emotionally. An eBike can be a RVers best friend! 
To view our range of eBikes, please visit our online shop.