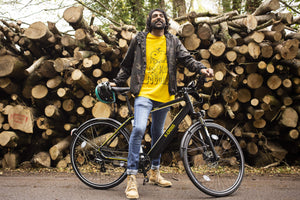 Are electric bike batteries interchangeable?
eBike battery care: are electric bike batteries interchangeable? 
Taking care of your eBike battery is paramount to the overall maintenance and longevity of your bike; the battery being the key element of an electric bike. Of course, because of this, you may be considering buying an additional - or spare - battery or are currently in need of a new battery for your electric bike, but unsure of where to purchase one. To help you, we're answering the question: are electric bike batteries interchangeable? 
Are electric bike batteries interchangeable?
Many eBike brands enable the owner to remove the battery from their beloved eBike, allowing the possibility of riding the bike without power, or removing the additional weight of the battery which makes it easier to lift when stowing away or loading onto a bike rack.
However, there may be occasions where removing the battery entirely and using your bike as a manual bicycle is not appropriate or possible, and you find yourself in need of another battery quickly or cheaply or both! 
This, or an occasion where you're cycling with fellow eBike-owning friends and battery runs out of power; your friend(s) offers their battery and to cycle manually in order to help you out - can you accept their kind offer? 
The answer is no, unless your friend's eBike uses the same system as yours; meaning, only if your eBIkes are the same make, will a different battery work. 
eBike batteries are not interchangeable between bikes. 
Therefore, should you need to replace the battery on your eBike, you'll need to purchase one of exactly the same spec as your current battery. 
Upon purchasing your eBike, it's recommended that you speak to the individual selling you the bike, or contact the company in question, to ask them about eBike batteries and options available for purchasing a spare battery. 
Mark2 Electric Bikes use a high quality Danish battery that is guaranteed for 3 years (extendable to 5 years) - as is the motor and electrical system - for peace of mind.
To find out more about our eBikes, eBike care & maintenance, test rides and purchasing, please see our FAQs, and to purchase a Mark2 Electric Bike, please visit our online shop.