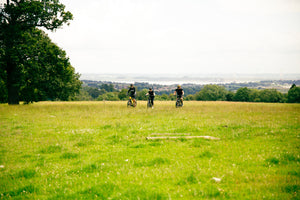 eBike facts & stats
For beginners and seasoned enthusiasts alike, here are some interesting eBike facts & stats
eBikes and eBike interest is absolutely on the rise, particularly over the last couple of years, as people of all ages and abilities discover just how easy to use, efficient and fun they are! So, whether you're an eBike novice or seasoned enthusiast, we've put together some interesting [UK & Europe] eBike facts & stats to further fuel your eBike passion! 
eBike facts & stats
A 60% increase within 1 year: UK sales of eBikes increased by an incredible 60% between March 2020 and June 2021 and demand is predicted to steadily increase over the coming years. 
At least 1 in 20 people own an eBike: In the UK, roughly 1 in 20 people own an eBike. That's 5% of the population of the UK (and growing!). 
Over 300 calories burnt: Did you know that cycling for just 1 hour on an eBike can burn an average of 390 calories? Although this isn't quite as many as on a manual bike (500 calories burnt an hour), eBikes still provide a great source of exercise, if burning some extra calories is one of your fitness goals!
50 - 60,000 sold per year: on average, between 50 - 60,000 eBikes are sold in the UK every year, and it's expected that these figures will rise throughout the years, especially the next 30 years.
First prototype created in 1989: the first electric bike prototype was built in 1989 by globally known brand Yamaha. The brand then went on to develop the pedal assist system in 1993. It's this that led to eBikes being readily available on the market and between 1993 and 2004 global eBike production steadily grew by an impressive 35%.
Women are most likely to use an eBike: generally, people over the age of 40 are most likely to use an eBike and/or show an interest in eBikes and, specifically, women are more likely to state that they would use an eBike for recreational purposes. However, interestingly, the market is seeing interest in eBike increase within the 25 - 34 age group. 
14 years and over: if you are 14 and over, you are able to legally ride an eBike with no special licence or tax(es). 
A decade of enjoyment: with the proper care and maintenance, eBikes can last as long as 10 years. To aid this, it is advised that owners take their eBikes for regular servicing; every 6 to 12 months. 
eBikes are a popular and growing mode of transport - transport that's great for improving and maintaining personal health and fitness, doesn't require any special licence, and can last for years (& years!) to come. 
To browse our growing range of eBikes, please visit our online shop.