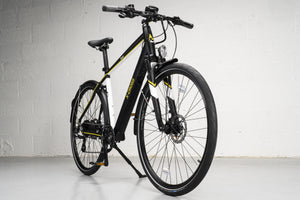 eBike size chart
Our easy-to-follow eBike size chart will help you decide which of our X-Cross electric bikes is right for you.
Particularly if you've never owned an eBike, or if you're interested in our new X-Cross range but are unsure of their sizes, it can be difficult to know which eBike you should buy or which is the right size for your height & weight. To help you, we've designed this easy to follow eBike size chart - specifically created to provide an eBike size guide for the X-Cross 450 (Step Through electric bike) and the X-Cross 520 (Hybrid electric bike). 
X-Cross 450 step through electric bike
Our easy-on-and-off X-Cross 450 step through electric bike has a standover height of 18 inches, with a frame size of 17.7 inches and a wheel size of 28 inches. 
But what does this mean? 
The easiest and most comprehensive way to understand an eBike in relation to your height is to measure your inside leg; this will give you a clear idea of whether you will be able to comfortably sit on and therefore ride an eBike; reaching the pedals and handlebars without issue. 
When considering this measurement, the X-Cross 450 electric bike is suitable for you if your inside leg measures between 28 and 35 inches. 
This simple X-Cross 450 sizing guide video will explain in a little more detail.
X-Cross 520 hybrid electric bike 
A somewhat larger eBike than its step through counterpart, the X-Cross 520 hybrid electric bike is suitable for you if your inside leg measures between 31 & 38 inches, with a standover height of 30 inches; a frame size of 20.5 inches and wheels of 28 inches. 
More information regarding the size and weight restrictions of the X-Cross 520 can be found in this sizing guide video.
Electric bike size guide
An electric bike size guide or eBike size chart should always provide you with enough information to buy an eBike with confidence and ease; ensuring that you understand how comfortably you'll be able, not only to ride the eBike, but to walk alongside it, and to carry it (should the occasion arise). 
eBikes offer so much more than traditional bicycles; they can take you further for longer, and help you navigate challenging terrains - they enable new adventures and help you create lasting memories. 
Therefore, getting the right size eBike for your height and build is so important to your overall & long term enjoyment - for those days when you just want to ride. 
For more information about our X-Cross 450 or X-Cross 520, please click here.