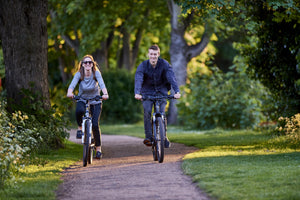 eBike your way back to health
We know that exercise keeps us in good health. But are we really aware of how it can get us back to good health after suffering a serious illness?
Yes, people who are more physically active may be less likely to develop problems in the first place, but for those of us who have already faced the challenges of multiple heart attacks, cancer, strokes or neurological issues, exercise can be the proverbial 'miracle cure'.
But what kind of exercise is right for someone in their later years trying to recover from a serious illness? Interestingly, many are now reporting that riding an electric bike is just what the doctor ordered. Not only does e-biking help people fight back and, in cases, actually reverse some of the symptoms of their illness, it can also improve mental alertness, emotional outlook and spiritual well-being, putting the proverbial spring back in our step, and granting us a renewed lease of life.
Inspiring individuals
A similar blog (http://electricbikeblog.com/case-studies-3-seniors-electric-bikes/) reported some inspiring examples of individuals who have used an electric bike to defy illness and age. One individual in his early 70s had a succession of ailments including a major heart incident, bowel cancer and a stroke and is now improving his health by riding an electric bike every day. Having enjoyed cycling in the past, an eBike gave this determined individual the opportunity to get out and about and continue to enjoy life and the benefits of the great outdoors.
Another fascinating individual in this blog actually turned his adversity into an asset. A keen cyclist who suffered a series of heart attacks, this individual was told by the medical profession that if he continued riding a conventional bike he was in danger of triggering another, possibly fatal, heart attack. Not one to take this news lying down, our cycling aficionado applied his talents as a skilled engineer to create a lightweight eBike of his own that would also monitor his heart rate. Which, we hope you all agree, is pretty damn cool.
Obviously, it also works a treat as our recovering pioneer now tours other countries on his custom-made electric bike.
Adding power to your pedal and years to your life
Indeed, these are inspirational individuals, but there's no reason why anyone trying to recover from a major illness can't also enjoy the benefits of riding an electric bike. The next of course being, which one? Well, the range recently developed by Mark2 can not only add power to your pedal, but years to your life.
Take back control
Tarmac or trail, off-road or on, Mark2's X-Cross or Scrambler electric bikes are highly recommended entry-level options for anyone who wants to cycle their way back to health, fitness and a longer life. Is an electric bike like the Mark2 expensive? Let's look at it another way. Can you put a price tag on the physical, mental, emotional and even spiritual benefits of fresh air, the open road and rediscovering your sense of adventure and the great outdoors? An electric bike puts freedom back into your own hands and that's priceless.
Obviously check with your doctor first, but if you are recovering from a serious illness, exercise could be the ideal remedy and, as we've seen, an electric bike like the Mark2 offers you the perfect opportunity to get back into life's saddle and look forward to the years ahead with renewed confidence and optimism.
What are our customers saying?
For more information about Mark2 electric bikes, or to arrange a test ride, simply contact: mark@mark2.co.uk or call 0800 471 4751