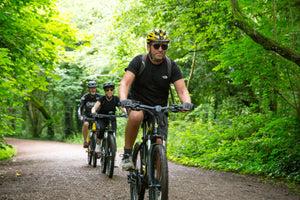 Electric bikes and insurance
Electric bikes and insurance: know the basics
Electric bikes are high value pieces of equipment and, for most cyclists, something you'll use and enjoy most days, if not every day. Therefore, it's important to ensure your beloved eBike is well maintained and cared for, especially if anything goes wrong with it. To help you, we've put together the following article on electric bikes and insurance… 
Electric bikes and insurance
For many eBike owners, adding your electric bike to your home insurance will be a viable option, as contents insurance often covers bikes. 
However, this really does depend on your insurance provider and, of course, your individual policy as some only cover bikes up to a certain amount. If that amount is under the cost of your eBike, it's therefore advisable that you take our eBike specific insurance. 
eBike insurance - especially if you use your electric bike every day - can be a valuable investment as many insurers provide you with the option of covering: 
Your eBike exclusively

You as a cyclist

 Your eBike and you!
And, although eBike insurance may sound specialist - and therefore expensive! - eBike insurance is easily obtained by well-known and specialist insurers alike, from just a few pounds a month, depending on your circumstances. 
So, when it comes to electric bikes and insurance, there are many easy and accessible options available to you, and which you choose depends on your current home and contents insurance, the value of your bike, and how you wish to insure it. 
For some, finding an eBike specific insurer or insurance policy is the most sensible option, and for most, adding your eBike to your existing insurance is the easiest route to take. 
To browse our range of eBikes please visit our online shop, or to book a test ride at any of our showrooms, please visit our locations section.