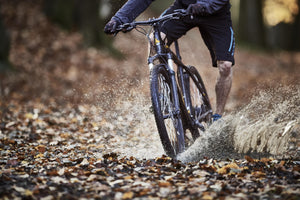 Electric bikes and motorhomes, the perfect partnership
Motorhome owners are independent-minded and free-spirited, they love to explore the UK and Europe with their own agenda, in their own time. They are holders of so much knowledge: favourite European drives, best weekend getaways in the UK, top places to pitch for unspoilt seascapes, which winding mountain roads lead to the most panoramic views, where pets are most welcome, tips for keeping warm at night and a myriad of other topics. There's one question on which they pretty much all concur, namely, that wherever they go, and whatever they plan on doing when they get there, taking an electric bike with you on holiday adds to the adventure, removes limitations and enhances your sense of freedom.
The top 5 essential features
Listening to feedback from owners, the opinion of industry experts, and reports from large retailers, the single-most requested accessory for motorhomes in the UK is now an electric bike. The needs of a motorhome owner are different from someone who plans to use their eBike from their home. Here are our top 5 considerations when choosing the best electric bike to take away with you on holiday.
Storage
Anyone who's owned or used a motorhome will tell you that every inch counts, here is where your choice of electric bike really needs to measure up. Commonly stored on a rack outside the motorhome, your bike must be compact, sturdy, and light enough for you to lift up and down whenever you need it. 
Power
Once you arrive, the benefits of bringing an electric bike really come to life. You'll also discover why choosing one with a large battery capacity is so important. A bike with a range of up to 60 miles from a single charge will keep you going throughout the day, allowing you to pop into the nearest town or village to run some errands, explore local beauty spots, frequent out of the way restaurants, pubs and cafes before wending your way back to your motorhome. No worries about running out of juice, Mark2 have got your back.
Easy to charge
Most of the newer electric bikes are a doddle to charge these days. You certainly don't have to worry about getting your entire bike near a socket, the battery should be quick and easy to remove. The good news for motorhome owners is that the newer electric bikes can be charged from any mains power socket. Even when you're touring around Europe there should be no problem finding an electricity hook up, wherever you stay.
How long does a battery take to fully charge? Normally up to 6 hours, but many batteries have now improved to the point where you can partially charge them in a couple of hours, without damaging the battery cell. A Mark2 electric bike contains a modern lithium-ion battery, to make life easy.
Reliability
On the whole, most electric bikes are pretty reliable, but they're not bullet proof and the reason for this is often about price, our final feature. A low-end electric bike is not the bargain it first appears to be, buying a cheap Chinese eBike from eBay is a false economy you'll end up regretting. Reliability is likely to be poor and if something does go wrong, you may have trouble finding replacement parts. On that note, let's move on to…
Price
A good electric bike is not cheap. Yes, you can pick up a very basic machine for less than £1,000 but, as we've explained above, you can face knock-on issues with reliability. To be honest, a high performance electric bike with light frames, maximum capacity batteries, and smart control electronics costs over £2,500, and bikes worth consideration start around £2,000. Like we say, not cheap but what it can add to your holiday in terms of enjoyment, new-found freedom and independence is priceless. Choosing and buying a good quality, reliable electric bike is an investment in your future, we know it is still a lot of money so we would always recommend trying before you buy. We confidently offer a 14 day, no quibble, money back guarantee.
It's a tough call, (not really), but from points 1 – 5 we believe Mark2's new range of X-Cross and Scrambler electric bikes score top marks. Tarmac or trail, off-road or on, the Mark2 range is, in our opinion, the best electric bike that ticks all of the boxes and will get you further. When we designed the Mark2 range, we listened, and we answered with two fantastic electric bikes that deliver. Tell us what you think...