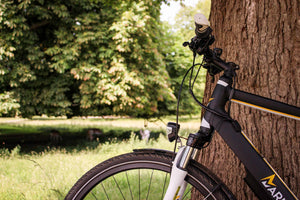 Lightweight bikes for motorhomes
If you're a motorhome fanatic or planning this summer's staycation, here is some helpful advice around lightweight bikes for motorhomes. 
If you're planning a 'staycation' this summer or simply itching to take your motorhome out on its (most likely) first adventure of the year, you may be wondering what the most suitable and convenient eBike options are for your impending travels. So, here, we'll go through everything you need to know about lightweight bikes for motorhomes. 
Motorhomes & eBikes: the perfect combination
Motorhomes and eBikes go together as perfectly as bread and butter or cheese and pickle; a motorhome allowing you the freedom to go (and stay) wherever the road takes you, and an eBike allowing you the freedom to go that little bit further. 
Yes, take an eBike on your motorhome staycation and the world, or at least the local area and 10+ mile vicinity, really is your oyster. 
Park up in your desired location, hop on your eBike, and explore your surroundings. What could be better?
As such, there are a plethora of lightweight eBikes for motorhomes to choose from on the market; many with practical and functional designs and/or features such as: 
As well as rear racks that help you carry essentials on your eBike as you explore. 
What's more, it's also worth noting bike racks that attach your eBikes to the back of your motorhome! 
But, within this, what should you really be looking out for when choosing the perfect eBike to compliment your motorhome and motorhome staycation? 
What's the best eBike for your motorhome?
Deciding which is the best eBike for your motorhome really depends on the kinds of motorhome adventures you like to have; if you enjoy cycling through challenging terrains like hills, mountainous areas, dirt tracks or woodland, an electric mountain bike or hybrid eBike is probably going to serve you best. 
Within this, also consider how you'll carry your eBike on/in your motorhome. Will you fix it to the back? If so, you'll need an eBike with a rack. However, if you'd prefer to store and carry your electric bike within your motorhome, a folding electric bike will inevitably take up less space and can therefore be safely and securely stored in almost any of your motorhome's storage areas. 
Lightweight bikes for motorhomes
Whatever you decide, there's one aspect of motorhome eBike ownership that overrides (pun intended!) all other aspects; weight. 
eBikes are typically heavier than manual bikes because of the battery, so gross vehicle weight (the weight of your motorhome PLUS the weight of your eBike) will need to be taken into consideration - will your motorhome be capable of withstanding the weight of your chosen eBike? 
This is where lightweight eBikes take their moment to shine…!
Lightweight eBikes commonly consist of a lightweight frame, designed to compensate for the additional weight of the battery, meaning they weigh little more than their manual counterparts and are therefore perfect for motorhome owners.
A wonderful example of lightweight bikes for motorhomes is the X-Cross 520 Hybrid eBike. 
Not only does the X-Cross 520 consist of a 52cm (20.5") lightweight 6061 aluminium alloy frame, but it also has lightweight alloy wheels with front quick release; optimising the overall weight of the electric bike, which comes in at a grand total of just 21.7kg (with battery).
What's more, being a hybrid eBike, the X-Cross 520 is suitable for multipurpose cycling meaning that whether your heart desires a hilltop bike ride, a woodland adventure or a gentle cycle through the nearest chocolate box village, the 520 will get you there safely, efficiently, and enjoyably. 
Whether you choose the X-Cross 520 or any other eBike available on the market, one thing is for certain - eBikes and motorhomes really are the perfect pairing! 
To browse our new X-Cross range, please visit our online shop.