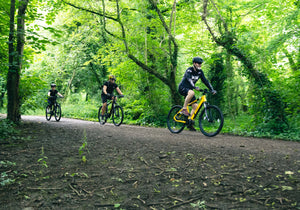 Local electric bikes: the benefits of buying local
The benefits of buying local when looking at eBikes for sale
The ability to buy products online is one of the biggest and most groundbreaking developments of the 21st century; allowing us all as consumers to purchase a mind-bogglingly massive variety of products and services from across the world, all from the comfort of our own homes, as and when is convenient for us.
However, buying online doesn't always mean buying from somewhere far away or halfway across the world! Particularly in this day and age, it's entirely possible and realistic to buy online and with convenience & confidence whilst also supporting local businesses. 
So, with the world's markets and products quite literally at your fingertips; so much choice and variety available to you, what are the benefits of buying local? Particularly through the lens of local electric bikes….
Local electric bikes: the benefits of buying local
Supporting a new, independent and/or growing business: when you buy local from local electric bikes shops, you're likely supporting a small and/or independent business - a business created by local people, for local people; meaning you're supporting members of your local community - your neighbours, friends, and local families in your area. You're supporting a local brand to grow, employ local people, and contribute to your local economy. 
Access to local expertise and knowledge: buying from your local eBike shop and/or showroom also provides you with access to local knowledge and expertise meaning that, should you need guidance on fantastic local eBike trails, servicing or advice on where to buy eBike accessories (if the shop doesn't supply what you're looking for), those employees, armed with invaluable local knowledge, will likely be able to help.
Quality customer service and a single point of contact: oftentimes, local and independent businesses are closely run by a small team of people. This means that, when purchasing an electric bike from a local eBike shop, you're extremely likely to experience excellent customer service and be assigned a single point of contact should you have any questions, issues or concerns.
An efficient delivery service and/or a variety of convenient delivery options: buying local electric bikes also provides you with efficient and convenient delivery options. For example, Mark2 Electric Bikes Hampshire offers local customers personal delivery of your new eBike 'Ready to Ride' - built, configured and ready to go! What's more, if you'd prefer to collect your new eBike yourself from an eBike shop/showroom, buying local enables you to arrange a collection date & time that's convenient to you. 
In short, buying your new eBike from a local eBike shop has many benefits; from supporting local people in your community, to providing you with a wealth of convenient delivery and collection options; as well as personal support and advice, and access to local knowledge. 
Mark2 Electric Bikes offers you, as our customers, the ability not only to buy local - with an array of eBike showrooms across the country, run by local business people with a passion for electric bikes, but also the ease & convenience of buying online… the very best of both worlds! 
To browse our locations, please click here or browse our range of eBikes here.