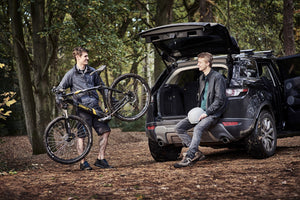 Motorhome Owners, Remember To Take eBikes
More Motorhomes, More eBikes, More Fun
Every year around 8,500 new motorhomes are registered with the DVLA. The market in the UK is growing at a rate of over 15% per annum so the motorhome community of 135,000 owners in Britain is ever increasing. Similarly, the popularity of electric bikes is also moving up a few gears, Western Europe is now the second largest electric bike market in the world with annual sales expected to top 3.3 million by 2023. The two make a natural pairing, a match made in recreational heaven.
Enhance Your Holiday With An eBike
Motorhome and caravan holidays are dramatically enhanced by the addition of electric bikes. Like the cherry on top of the proverbial cake, motorhome owners have been quick to spot that taking an electric bike along for the ride adds to their sense of freedom and let's them climb higher, go further and see more. Park up, get in the saddle and discover the countryside, stress-free. An electric bike is now the single most sought-after accessory for motorhome owners across Europe.
eBikes - Travel With No Limits
The surge in popularity of electric bikes among motorhome owners is easy to explain. Motorhomes are a fun, economic and relatively independent means of exploring the UK and Europe, with a few limitations. Nipping out in your motorhome for a five-minute drive to pick up a few provisions is not as simple as it sounds. Going off-track and getting up close and personal with the great outdoors is practically impossible in a motorhome, an electric bike enhances your travels with no limitations, just opportunities.
No need to pack up your motorhome every time you want to go sightseeing, simply hop on your eBike and effortlessly explore remote regions, confident in the knowledge that if you do start to get tired you'll get back to the comfort of your motorhome with the flick of a switch. Out-of-the-way attractions can be inaccessible by anything but bike, and an electric bike in particular. Wayside cafes, busy street markets, or spectacular beauty spots at the top of winding mountain roads, no sweat with the right electric bike.
An electric bike makes nipping in to the nearest village a breeze, no sitting in traffic, trying to find a parking space or worrying about how safe your motorhome is in town. Steep hills, strong headwinds, long distances are not an issue. Zip in and out on your electric bike.
Giving motorhome owners a new lease of life
eBikes give you the freedom to explore the parts your motorhome can't reach, and there's so much more, let's briefly touch on the health benefits an electric bike offers. Get your legs pedalling and your heart pumping in the fresh air, a cardiovascular workout that is low impact so kind to your joints. With an electric bike, you can pedal as hard and fast as you want, you are in control, when you've done enough, flick a switch and sail back to your motorhome with help from your electric motor.
What You Should Expect From Your eBike
So, motorhomes and electric bikes are the perfect match. Like strawberries and cream or fish and chips, they were made to go together. You just need to find the one that's right for you… There are many contenders, but we know the range developed by Mark2 ticks all the boxes. We analysed other eBikes, listened to what eBikers wanted, then worked hard to be the best. Tarmac or trail, off road or on, Mark2's X-Cross and Scrambler electric bikes are ideal for motorhome owners who want to go further, climb higher and see more.
Storage? Check
Motorhome owners will tell you space is at a premium. The beauty of a Mark2 electric bike is that it's simple to store on a rack outside the motorhome itself, a space not usually needed for anything else.
Power? Check
With nearly twice the battery capacity of its nearest competitor and an outstanding 30 – 60-mile range, a Mark2 will keep you going from dawn to dusk.
Reliability, ease of use, full two-year guarantee? Check, check and check.
We want you to be happy and confident with your Mark2 bike, we have thought of everything so you can pedal off into the sunset with a smile on your face.
Price? Check.
Taking a Mark2 electric bike away with you to explore the world certainly won't cost you the earth, it's possibly the best investment you'll make in your future.
For more information about Mark2 electric bikes, or to arrange a test ride, simply contact us on: 0800 471 4751 or email info@mark2.co.uk