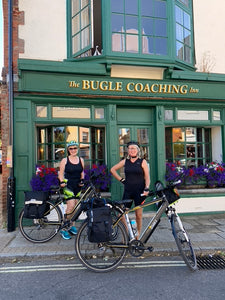 Part 3 of Nikki and Lorraine's Isle Of Wight adventure (featuring Mark2 Electric Bikes!)
In July 2022, friends Nikki and Lorraine set off to tour around the Isle of Wight on their Mark2 ebikes. The following blog is part 3 of a series of blogs that details the exciting story of their summer adventure, as told by Nikki.
Day two:
the world's most complicated drinks bottle holder and Greek night cocktails!  24.40 miles (2 hrs 24 m)
After a great night's sleep, we woke to yet another glorious day and packed up our bags ready for our first full cycling day.  
We decided to make the most of the weather and headed for a café on Yarmouth pier for an al fresco Full English, to ensure we were fully fueled for the adventures ahead.  
This turned out to be the only disappointing meal of our trip, as neither the breakfast nor the service were very good but the sun was shining and we refused to allow a few dodgy sausages and a grumpy waitress to spoil our day.
After a quick photo call in front of our Inn, we set off for Ventnor.  
We had decided to largely follow the Round the Island Trail, which is clearly marked with plenty of signs and is designed to keep cyclists off the main roads as much as possible (for the benefit of both cyclists and motorists).  
Our first stop was at Wight Cycle Hire, which is just at the beginning of a cycle track following an old railway line.  
Lorraine was on a mission to find someone to help her fit her water bottle holder to her bicycle, and collared the lovely John who had been quietly working on very important things and probably really didn't need to spend half an hour sorting out the world's most complicated drinks bottle holder!  
Once fully fitted out, we hit the cycle track and pedalled onwards.  
To conserve our ebike battery power we decided to keep a low level of power on the flat sections, so we could ramp up the power for the hills.  Turns out the Isle of Wight has a LOT of hills, so this was a very good plan, especially as our bikes were carrying a lot of extra weight with all our luggage.  
We enjoyed some idyllic cycling along largely deserted tracks and quiet roads; unlike on the mainland, the local motorists seem very tolerant of cyclists on the Isle of Wight and although there was one narrow road section where we did build up quite a "following", there was never any unpleasantness.
We found a lovely local village shop in Brighstone, where we decided to stock up on a 'Famous Five' picnic – lashings of ginger beer, crusty bread, apples, cheddar and some crisps (we also snuck in a bag of delicious local juicy cherries).   This was carefully stored away, ready for our destination celebration lunch.  
We also managed to squeeze in a cheeky ice cream stop at Chale, after a particularly vicious hill climb which had a fortuitously-positioned ice-cream van at the top.  
There we could admire the amazing views while we got our breath back.
The final push to Ventnor was EXTREMELY hilly, and even with the extra power provided by the batteries we had to put a bit of effort in on the steepest hills.  
Our destination was The Wellington Hotel, overlooking the sea at Ventnor, and we made it - just! - as the batteries started flashing empty.  Phew!  
The lovely staff at the Wellington showed us where to store our bikes (they had bike racks with CCTV) and happily accepted our ice packs so they could be frozen overnight.  
After a quick unpack we plugged our batteries in to recharge while we headed for the beach with our picnic.  
It was still really sunny, and we thoroughly enjoyed our Famous Five picnic (especially the cherries!).  We even managed a swim – the water was very 'refreshing', followed by a little afternoon snooze…….it had been a busy day, after all.
We decided on fish and chips for supper, and after a shower and a change of clothes we headed down to the seafront where we had booked a table earlier.  
The restaurant was absolutely packed, with a reggae band performing all the best holiday tunes and everyone was up and dancing in the street, enjoying the sunny evening.  
There were lots of holiday vibes going on!  
Then back to the hotel for cocktails on the terrace, being serenaded by "Phillippe and Stavros" against a perfect pink sunset.  
An absolutely brilliant day.
Please click here to read part 4 of this series. 
Or visit our online shop to browse our eBikes.