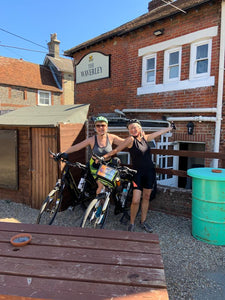 The final part of Nikki and Lorraine's Isle Of Wight adventure (featuring Mark2 Electric Bikes!)
In July 2022, friends Nikki and Lorraine set off to tour around the Isle of Wight on their Mark2 ebikes. The following blog is the final part of a series of blogs that details the exciting story of their summer adventure, as told by Nikki.
Day four: back to Yarmouth via Cowes - 19.92 miles (2h 1m)
By now we had the packing routine off to a T, and after a great breakfast we collected our ice pack, plugged in our fully-charged Mark2 eBike batteries and set off on our final day of cycling.  
We continued to follow the Red Squirrel Trail, a converted railway track running alongside the Medina river, towards Cowes.  
It was yet another gloriously hot and sunny day, but the breeze created by cycling meant we didn't suffer from the heat (and we were very good about putting on lots of sun cream).  
It was a lot busier on the cycle trails today, but everyone was very friendly and there were lots of cheery greetings exchanged.  The route was largely flat, but we noticed that even so nearly every other bike we saw was an ebike.  
They are definitely very popular over here!
We stopped off in Cowes for a short wander around the shops, but it was extremely busy so we jumped back on our trusty bikes and headed off towards Gurnard to have a sit on the beach and watch all the racing yachts go by.  
Then it was one last push towards Yarmouth and our return ferry.  We definitely started to slow down as we approached the end of our route, neither of us wanting our little adventure to finish.  (It also gave us an opportunity to look at the houses for sale, as by now we had both decided to move to the Isle of Wight!). 
A desperate search for a final Isle of Wight holiday ice cream resulted in abject failure, as the one ice-cream parlour in Yarmouth had closed and everywhere else had either sold out or had mile-long queues.  
To say we were depressed heading for home was an understatement – we had both already said that we couldn't ever do a cycling trip again, as it couldn't possibly be as good as this one!  
On arrival in Lymington we were a little early to meet Lorraine's friends so had time to squeeze in a final ice-cream on the harbour – result!  Then back into our saddles for a final time to head back to the car.
We arrived back at the drive where we had left the car, and it all looked very quiet so as we were still a little early we decided we should break out the camping stove and kettle and have a brew.  
I had been carrying the kit around the Isle of Wight throughout our trip, thinking we might need a warming cup of tea if we had inclement weather, and so was determined to use it!   We enjoyed our tea, but time was moving on and we were getting a little concerned about getting home (we had posted the car keys through the letterbox when we had arrived on Thursday, in case our hosts needed to move the car).  Lorraine decided to call her friends to find out what time they were getting back – only for them to open the front door.  They had been in the house the whole time, and hadn't noticed our brewing shenanigans on their driveway…..we had to laugh!  Then it was back to packing everything into the car for an uneventful drive home.
Back to reality
We truly had the best time on our mini cycling adventure.  
Our Mark2 ebikes performed faultlessly throughout, with the extra power greatly appreciated on the many hills we encountered.  Neither of us would have attempted this trip on unpowered bikes; the hills were just too steep and the weight of our luggage would have made it impossible (even with just two small panniers).  
We found we both really bonded with our bikes during the four days, as we spent so much time with them, and genuinely grew very fond of them!  The weather was perfect, and we had worked out our routes to allow for around two hours a day in case the weather had not been so kind so we know we were very lucky.  
All the places we stayed at were able to make sure our bikes were safe overnight, and once we had got used to taking the batteries on and off it was a doddle to get them recharged.
All in all it was a completely brilliant experience, and gave a couple of fairly unfit middle-aged ladies a real sense of achievement.  
We would both absolutely recommend this trip to anyone considering taking their ebike out for more than a local runaround, and we are now actively looking for another adventure that might test us a little more (but not so our legs hurt!)
Nikki & Lorraine
----------------------------------------------------------------------------------------------
Our thanks to Nikki & Lorraine for sharing their wonderful summer adventure with us, and allowing us to share it with you! 
We're so pleased they both enjoyed their time on the Isle of Wight with their Mark2 eBikes, and were able to get the most out of their trip, their eBikes, and the wonderful weather. 
To browse our eBikes, please visit our online shop.