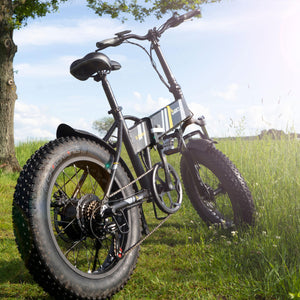 Too Unfit to Exercise? Get An Electric Bike
Exploring electric bike health benefits
Making cycling slightly easier on the rider, electric bikes are more than simply a fun alternative to standard bicycles; providing battery powered assistance whenever and wherever you need it most, yet still enabling you to experience the benefits of cycling, here we explore electric bike health benefits. 
Electric bike health benefits
Keeping you active:
with the right kind of electric bike, you're free to engage and disengage the battery whenever and wherever you need assistance, meaning that cycling using an electric bike keeps you just as active as with a standard bicycle. 
Improving emotional wellbeing:
getting out and about on your electric bike; being physically active, experiencing the fresh air, and spending time with friends and loved ones will inevitably have a positive impact on your emotional wellbeing.
Increasing your physical fitness:
even if you use your electric bike only a few times a week, cycling will help to increase your physical fitness; providing you with a source of  exercise and a way to keep active. 
Electric bikes make cycling more accessible
Electric bikes take away your fear and give you back your confidence. From the outset, you are in control of how much effort you put in and how much support you need so you can exercise without fear.
An eBike is the perfect way to return to fitness, and stay fit. Set off on your cycle route without fear of insurmountable hills, unachievable distances or simply not being fit enough to get home again. 
Push yourself to limits that are right for you then flick the switch and let the motor silently kick in to add power to your pedalling. Use the power to get you up steep hills, to take you further than you thought possible and to support you in your journey to fitness. 
Mark2 eBikes have robust build quality, stylish aesthetics and the high quality lithium-ion battery gives you power for up to 60 miles assisted pedalling, that's almost twice the power of other eBikes. As your fitness level increases, your use of assisted pedalling decreases.
To browse our range of electric bikes please visit our
online shop
.