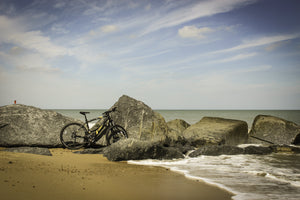 Top 5 memorable eBike routes
Here are the best eBike trails
Here are just 5 of what we consider to be the best eBike trails in the UK – you can choose where you ride and let your bike do the hard work or cycle unassisted, but whatever you decide, you're guaranteed an unforgettable experience on two wheels, exploring any of these 5 best eBike trails. 
1 The North Sea Cycle Route
Salt air, eight countries and the trip of a lifetime. Taking in incredible scenery, The North Sea Cycle Route is a challenge that any keen cyclist simply must take. Starting in Dover, the route travels up the east of the UK, passing through Scotland before you travel to The Shetlands and then across to Norway where this epic tour continues along the North Sea, eventually taking in eight countries over 6,200km before returning to Dover. Epic, dramatic and unforgettable, cruise under the power of your eBike or pedal when desired, this is probably the ultimate trek.
2 West Country Way 
If you love Cornwall, this is the route for you. The West Country Way is a 252-mile route that goes from Padstow to Bristol, passing Bodmin Moor and Exmoor along the way. Dramatic, unforgettable and breathtaking, this is a route where you'll appreciate and love your eBike even more when you finally reach your destination.
 3 Tweed Cycleway, Scottish Borders 
Staying with a distinctly tartan theme, if you'd rather not leave these shores, how about a 90-mile or so stint from Biggar to Berwick? Stop in a hotel, have a wee dram and soak up the surroundings. This is a largely downhill route, so you can save your battery if you like and freewheel as and when you want! Forests, hills and beautiful surrounds, this is an unforgettable ride you simply must try at some stage.
 4 East Anglia 
If you love flat landscapes and countryside, this is the route for you. The Fakenham to Harwich route is some 163 miles in length, but an eBike will make it a much easier route. Largely flat all the way, you can cruise or pedal as you glide through some of England's most beautiful countryside.
5 Hadrian's Cycleway, Cumbria 
Back up north for our next suggestion – The Hadrian's Cycleway, Cumbria. This is a cross-country trek that takes you from Ravenglass to South Shields in 174 beautiful, rugged miles. You'll pass through towns, then pedal for miles without seeing anything as you ride from one coast to another.
Of course, there are so many stunning sights and landscapes in the UK that would make incredible eBike routes; this is simply 5 of what we feel are the best eBike trails available, thanks to their length, the sights you'll see along the way, and the experience they offer - enabling you to not only enjoy your eBike, but really get to know it and its capabilities. 
To browse our range of eBikes, please visit our online shop.