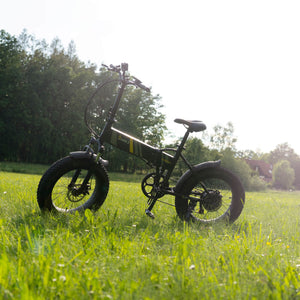 Where Can I Buy The Best Electric Bike?
Tips and advice for choosing the best electric bike for you
If you're thinking about buying an ebike, you'll naturally want to buy the best electric bike available; not only in terms of the overall quality and price, but also the electric bike offering the most suitable specifications for you; considering the speed, weight, and which e-bike is best for the kind of terrain you're likely to cycle on. 
The popularity of eBikes is increasing as more and more people discover how life-enhancing they are. 
Choosing the best electric bike for you
When choosing the best electric bike for you, there are a number of key elements to consider. 
Apart from cost, quality and function affect which eBike you should buy. 
Battery and motor
You'll find many eBikes have a large, noisy battery with limited power. In real terms you need a bike that looks good and will provide assisted pedalling for as long as you need it, anything less is just not good enough.
The Mark2 has a slim and super-sexy lithium-ion Sanyo battery packing 36V 37w Wh (10.4 Ah). 
What this means to you is you can flick a switch and have assisted pedalling for up to 60 miles, that's around twice as far as our competitors. 
This state-of-the-art battery is hidden within the frame so barely noticeable. 
The long-lasting battery is combined with a rear 250W Promovec high torque motor to offer you an eBike that outstrips its competitors on style and substance. 
Charging only takes 4-5 hours from flat. Go further, charge less, and look cool (if you've looked at other eBikes you'll see what we mean). 
With a Mark2 you can go wherever you want, knowing you'll get back with a smile on your face, still loving cycling.
Battery chamber     
Mark2 Electric Bikes include a powerful battery discreetly hidden within the frame and rear. 
The display
The easy to read Promovec smart display is an LCD screen that clearly shows the speed you are travelling at, your trip distance, the battery-life and the assistance level you have chosen at any given time. 
The power levels and the cleverly integrated lights are all controlled by easy-to-reach buttons beside the display. Both the X-Cross and the Scrambler include a 'Walk-Assist' mode so steps are not a problem. 
The brakes
When it comes to brakes, they need to be top quality, tried and tested brakes that you can rely on. We want you to be able to confidently put this bike through its paces without the worry of brakes failing. 
The Shimano M315 hydraulic brake system gives you the confidence and the reassurance that comes with precision engineering, reliability and performance, whatever the conditions.
The frame
Some eBikes out there are heavy; too heavy to lift meaning you can't lift your bike onto a car carrier, over steps or onto the back of a motorhome. 
We believe an electric bike should give you freedom without limits, so we designed our eBike with a specially toughened 6061 lightweight aluminium frame. 
Overall weight is an impressively low 19.2 kg for the Scrambler or 21.7 kg for the X-Cross.  
The gears
The front derailleur is a mighty fine Shimano, Tourney 3-speed FD-TY710-TS3. The rear derailleur is the Shimano, Acera 8-speed RD-M3000, SGS Shadow. A combination that gives you smooth, slick changes through 24 gears with comforting speed and accuracy, you'll wonder how you ever put up with bikes with shoddy gear systems. All you need to focus on is enjoying your bike ride.
Choosing the best electric bike for you can often feel like a difficult task, but here at Mark2 Electric Bikes, our expert team are on-hand to help you find the ebike that's best suited to your needs. 
All our e-bikes are lightweight, with a quick-charge, long lasting battery to ensure you can enjoy your journey from beginning to end without worry.
To browse our range of electric bikes, please visit our online shop.