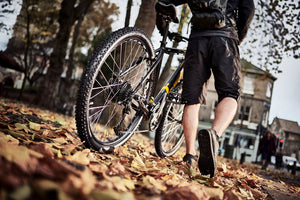 Why Buy an Electric Bike? 21 Reasons
Why Buy an Electric Bike?
We can think of hundreds reasons, so can our customers, so we thought we'd highlight a few of the main one reasons to buy an eBike here, especially for you.
Get fitter
See more
Go further
Climb higher
Power when YOU need it
No worries that the ride might be too tough, flick the switch to add power
Commute to work, beat the traffic, no parking stress, no parking fees
Take your eBike with you to add adventure to car or caravan holidays
Let your eBike take the strain
Suitable for adults of any fitness level
No worries about post Brexit restrictions, the UK is beautiful
You still need to pedal, it's not cheating!
Enjoy the fresh air, together or solo
You don't need to get sweaty if you don't want to
The Mark2 high torque motor is so quiet, nobody will know it's an eBike
14 Day, money back guarantee (But we know you'll love it)
2 Year warranty (we are that sure of our bikes)
No need for bike ride tantrums, with a Mark2 eBike, no-one gets left behind
Invest in a better lifestyle, make your future a healthy one
A Mark2 electric bike has the longest-lasting battery of any eBike, up to 60 hours of fun
Did we mention how quiet our eBike is? Check this out...
https://youtu.be/OQNFBbQVH_c
What Our Customers Say About a Mark2
 I'm absolutely over the moon with the bike ... It has enabled me to be more adventurous and extends my range ~ Derek & Rita Potts
Well done Mark2 - this is a product of which you should be proud. ~ Nick Gebbett
... would definitely recommend, a great looking eBike, excellent to ride it encourages you to cycle further than your original destination and you get a real feel good factor when riding this bike it makes you smile biking up hills! Thank You Mark2! ~ Jill
You'd like to buy an eBike? Take a look at the Mark2 range here