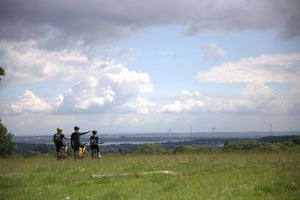 Best all terrain e bike
What makes the best all terrain e bike? 
If you're an adventurer, an experienced cyclist or love cycling on holidays & 'staycations', you may be looking for the best all terrain e bike to help you get the most out of your upcoming ventures - an eBike that can tackle hills and rocky landscapes as confidently as it can flat cycle paths. 
Here, we'll go through what makes the best all terrain e bike as well as where you can buy one. 
Best all terrain e bike
Lightweight frame: The lighter the frame, the easier it will be able to handle difficult terrains and handle them comfortably; a heavy frame will inevitably struggle. 
Long range: Particularly if you're a cycling thrill-seeker and enjoy cycling through vast landscapes of mountains and hills and rocky roads, you'll need an eBike with a long range; a battery that will last for miles and miles so, for one!, you don't risk becoming stranded in the middle of nowhere or lose power half way up a huge hill! 
Power assistance boost/booster: One of the most important parts of an eBike is the power assist - helping you tackle difficult terrains and/or cycle long distances, especially when you're tired. A power assistance booster, therefore, provides that little bit of extra power when you really need it, making it really helpful for steep hills, winding roads, and difficult terrains of many kinds. 
Reliable tyres: Tyres play an incredibly important role in making the best all terrain e bike - they need to be big and strong, and comfortably withstand unpredictable surfaces; tyres specifically designed to deal with the challenges that come with cycling across multiple landscapes. 
Scrambler C high torque hardtail electric mountain bike 
Our Scrambler C high torque hardtail electric mountain bike is an ideal all terrain eBike specifically made for off-road cycling, but nimble and light enough to also be enjoyed on flat cycle paths and/or urban cycling. 
With a high torque Danish Promovec crank motor, the Scrambler C offers an impressive 90NM of torque from a 250W motor. 
What's more, even with this level of power, it's entirely UK road legal!
Features of our Scrambler C include a lightweight 6061 aluminium frame, twist throttle for power assistance boost for when you need that extra kick of power, and 27.5" alloy wheels with 27.5" x 2.25" Schwalbe K-Guard Tough Tom front and Rapid Rob wired rear tyres. 
The Scrambler C is everything the team at Mark2 Electric Bikes, as keen leisure cyclists ourselves, want to see in an all terrain eBike; it's fun, agile, reliable, and packs quite the proverbial punch. 
So, what's the best all terrain e bike? 
The Scrambler C high torque hardtail electric mountain bike!
To learn more about this already popular eBike and preorder yours, please click here. 
To browse our full range of 2022 eBikes, please visit our online shop.