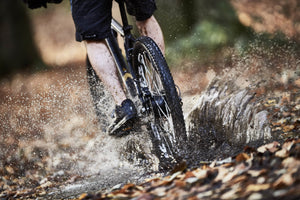 Can electric bikes be used in the rain?
A question commonly asked; can electric bikes be used in the rain? 
Even as electric bikes increase in popularity; with more and more people realising the long term benefits of riding an eBike, there are still a multitude of myths and commonly asked questions associated with eBikes - including can electric bikes be used in the rain?
Can electric bikes be used in the rain?
It's a common misconception that eBikes can't be ridden in the rain; presumably because they're electric. 
The reality of this is that eBikes can be used and enjoyed in essentially the same way as a manual - or 'regular' - bike; the only minor differences in usage being that you have to be over 14 years old to ride an eBike, you'll need to charge your eBike battery periodically, and you may be restricted by speed limits in certain areas.
Electric bikes are rigorously tested to ensure they're waterproof so, actually, a little rain or an inconvenient puddle will not stop you from enjoying your eBike and you should treat it in very much the same way as a traditional bike. 
However, that doesn't mean that you should actively seek to drench your eBike (no riding through ponds and lakes)! And there may be some additional precautions or measures you wish to take when riding an eBike in the rain.
Tips for riding an electric bike in the rain
Slow down: Rain, particularly heavy rain!, can have an adverse effect on visibility whilst increasing the chances of slipping, tripping or falling. As such, the best advice we can give you when riding your eBike in the rain is to slow down a little. Take those bends carefully and cautiously! 
Brake early: Just like driving a car or riding a manual bike, braking early and gradually, especially when taking corners or driving through particularly slippy areas is advisable. However, it's also worth noting that the additional power provided with the nature of an electric bike means that the braking system is arguably better than that of a manual bike, which is a distinct advantage of riding an eBike.
Keep your eBike clean: Often, rain not only leads to wet and slippy landscapes, but also to muddy areas and, although mud and rain aren't likely to cause direct damage to your eBike, it's definitely a good idea to keep your electric bike clean; spending a few minutes after you've been riding in the rain cleaning and drying it to ensure no mud or water finds its way into the internal workings of your eBike. 
So, with all this in mind, can electric bikes be used in the rain? 
Absolutely!
eBikes can be enjoyed in very much the same way as you would a manual bicycle and, actually, come with many advantages; like assisted power and better brakes. 
To browse everything we have to offer, please visit our online shop.