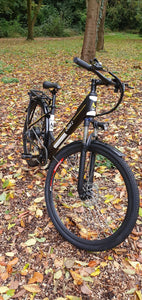 Electric bikes vs regular bikes
Here, we compare the differences between electric bikes vs regular bikes
Particularly if you're a keen cyclist of a regular - or manual - bike, and you're considering making the switch to an electric bike, you may be wondering what the differences are between electric bikes vs regular bikes. 
Electric bikes vs regular bikes
It's a common misconception that electric bikes are like scooters. 
In fact, electric bikes look almost exactly like manual bikes in their build, tyres, and general structure save for, of course, their battery, motor, and display. 
The pedals on an eBike operate in the same way and so, too, do the brakes; the battery powers the motor and the motor provides power assistance as and when you need it. 
This, essentially, is the main difference when comparing electric bikes vs regular bikes.
However, whilst this may cover the technicalities and aesthetics of electric bikes in comparison to manual bikes, this does not touch upon the overall riding experience, which is one of the main reasons a cyclist may be considering an eBike over a manual bike. 
The riding experience of an electric bike is unlike that of any other bike. 
Power assistance means that, unlike a regular bike, you're provided much more freedom than with most manual bikes. 
Why?
The motor on an electric bike enables you to ride your bike much more easily than with a manual bike; simply turn the power on and you can easily conquer difficult terrains such as steep hills or sand without using as much energy or effort as with a manual bike. 
What's more, power assist enables you to go further for longer; meaning that when you're tired or out of breath and considering ending your journey, you can simply turn the motor on and go that extra mile! 
Many eBikes, such as ours here at Mark2 Electric Bikes, provide you with the option to ride your electric bike without the battery as you desire; providing you with the freedom to ride your electric bike as a manual bike, or as an eBike - and all our eBikes also come with walk assist, for those times you choose to walk your bike, or pull away up a hill. 
Speed is another considerable difference when comparing electric bikes vs regular bikes, as electric bikes will assist you up to 25kph (or 15.5mph). How fast you ride of course is up to you.
Rules and regulations around electric bikes is another typical concern among cyclists when comparing the 2 types of bike; are there additional rules, regulations or restrictions in place for eBikes? 
The answer is, yes, there are some rules around eBikes because they are a motorised form of transport, such as you have to be 14 years old and over to ride an eBike, but - overall - the rules are the same as manual bikes; just ensure you stick to any speed limits in place! 
You don't need a licence, special training; tax, insurance or any type of registration to ride an eBike - you can ride an electric bike in the same manner you would a manual bike. 
In short, the main difference between eBikes and manual bikes is the overall riding experience; with eBikes enabling you to tackle challenging landscapes much more easily than on a manual bike, and help you ride further for longer. 
To browse our range of eBikes, please visit our online shop.