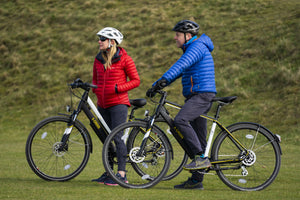 How to choose an electric bike
eBikes are a long term investment so it's important you pick the right one for you; here's how to choose an electric bike
Typically costing between £1000 & £3000 new, purchasing your first eBike can feel like a large and long term investment, which is why it's so important that you pick the right eBike for your height & build, as well as your lifestyle. So, here, we'll provide some handy hints, tips & advice around how to choose an electric bike.
How to choose an electric bike
Price range: One of the best places to start when considering a new eBike would be by asking yourself: "what's my price range?" or "what can I realistically afford to spend?" - you don't want to fall in love with the perfect electric bike, only to discover it costs hundreds of pounds more than you can afford! 
However, it's important to note that price isn't everything and it would also be incredibly inconvenient to purchase a particularly cheap electric bike, only to find it breaks down after a handful of outings or requires multiple repairs & servicing within its first year; an electric bike sold cheaply because it's been built using cheap parts will simply end up costing you more further down the line! 
Quality & trusted brands: Especially if you're new to the wonderful and exciting world of electric bikes, you will want to do some research into the best electric bikes for sale; understanding the many options available to you, the market's most popular and exciting brands, and even how to take care of an eBike (spoiler alert: it's not dissimilar to manual bicycle care!). 
And, when doing your research, one of the best ways to choose an electric bike is to look at brand reviews - pay attention to trusted and popular eBike brands who have consistent 4 & 5 star customer reviews; not only for the quality of their eBike range, but also the customer service and after-sales service they provide; like repairs, servicing, warranties… And, although quality sometimes means paying that little bit extra, it will also be so very worth it!
Usage: Another really important point to consider when wondering how to choose an electric bike is thinking carefully about how you would use it. If your primary use for an electric bike would be commuting to work (particularly through a city) or taking it with you on regular weekends away; in the car, on the train or to enjoy as part of a motorhome or caravan holiday, a folding eBike will probably be the best option for you. Whereas, if you're planning to use your eBike to explore challenging terrain and adventure through some of the UK's most dramatic and breathtaking landscapes, an electric mountain bike might be the perfect cycling companion for your adventurous nature. 
How far and how often: Within the point above is another valuable consideration - how far and how often will you ride/use an electric bike? Being able to answer this question will provide you with a clear idea of elements like what kind of battery and motor you need. 
eBike repairs & servicing: Often overlooked, eBike repairs & servicing are crucial to eBike maintenance; when choosing an eBike, getting a cheap eBike may seem like a good idea, but, most of the time, cheap eBikes don't come with guarantees, sufficient warranties or a repair service - making them difficult to repair if they break or breakdown. This alone can add a significant long term cost to a 'cheap' eBike. 
Whereas there are lots of superb quality eBike brands out there who, as part of their overall service, offer servicing & repairs as standard, at least for a set period of time. 
There are even some eBike dealers & stockists that offer to repair and/or service your eBike, even if you didn't buy your eBike through them - just like our sister company Hampshire eBikes. 
Your height and build: Getting the right size eBike for your height and build is crucial to your comfort and overall enjoyment of an electric bike; if you end up for an eBike much bigger or smaller than you feel comfortable riding (or are able to ride), your exciting new purchase will inevitably end up sitting in your garage or shed, gathering dust.
The best way to choose an electric bike appropriate for your height and build is to measure your inside leg; as is demonstrated in our eBike size chart for the new X-Cross 450 and the eBike size chart for the new X-Cross 520. 
What electric bike should I buy?
Ultimately, the answer to what electric bike should I buy? really depends on your answers to the questions and points mentioned above, but if you: 
Have an inside leg measurement from 28" to 35"

Need an eBike that's easy to get on and off of

Are likely to cycle long distances

Want a multipurpose eBike suitable for many different terrains
Then the X-Cross 450 is for you. 
Similarly, if you:
Have an inside leg measurement from 31" to 38"

Need an eBike with a lightweight frame (for easy lifting & carrying)

Are likely to cycle long distances

Want a fun and fabulous eBike that's sure to turn heads!
Then the X-Cross 520 is for you. 
To browse our range of brand new X-Cross electric bikes, please visit our online shop.