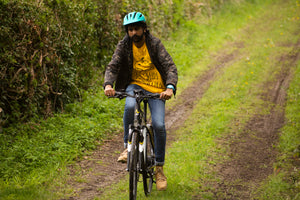 Tips for autumn eBike cycling
Top 5 need-to-know tips for autumn eBike cycling 
As the weather gets steadily colder and wetter, and the leaves rapidly fall from the trees - the beautiful oranges, reds and browns so symbolic of this time of year blanketing the ground beneath us - it's about time to prepare your eBike for autumn! As such, here are our top 5 need-to-know tips for autumn eBike cycling.
Tips for autumn eBike cycling
Ride with caution: drops in temperature (especially in the mornings and evenings), increased rainfall, and greater chances of fog & frost make for greater risk of incidents, like slipping on wet or icy roads. Therefore, cycling with caution is a must! Especially when riding early in the morning or into the evening, make sure to take corners and low light or narrow roads slowly.
Pack a change of clothes or wear easily removed layers: particularly during early autumn, there can be - at least here in the UK - quite extreme differences in temperature throughout the course of the day; the mornings and evenings being particularly cold and sometimes icy, with the bright autumn sun warming everything up by mid-late afternoon. As such, it's always a good idea to pack a change of clothes in your travel bag if you're out cycling for most of the day, or wear easily removed layers you can take off as the day warms. A comfortable eBike ride is an enjoyable eBike ride! 
Accessorise, accessorise, accessorise!: accessories such as LED rear lights or a pannier bag, a comfortable saddle and a waterproof jacket are going to be your best friends during autumn! Enabling you to see your route more clearly as daylight fades into night, carry essentials such as jumpers, jackets, and water, and protect you from changing weather conditions.
Check your lights, brakes and tyres: harsher conditions, slippery roads & paths, and changes in temperature all take their toll on your tyres - especially temperature which can see your tyre(s) PSI drop - and brakes. Ensuring your lights are also working is vital when cycling in low level light and darkness - you need to see where you're going! Routinely checking everything is in order before heading out on your bike ride is essential to a safe and enjoyable journey. 
Take care of your battery: ensuring your eBike battery is appropriately maintained and charged is key to any great eBike session - the last thing you'll need after a long, chilly bike ride is for your battery to die as you approach a steep hill! Although it's possible to ride a Mark2 Electric Bike without the battery, it's not always ideal. 
eBike cycling in autumn is bracing, exhilarating and, above all, enjoyable - changes in temperature and reduced natural light don't have to stop you from cycling safely and with confidence. 
With knowledge, know-how, and armed with the right accessories, you can enjoy your eBike all year round. 
To view our growing range of eBikes, please visit our online shop.