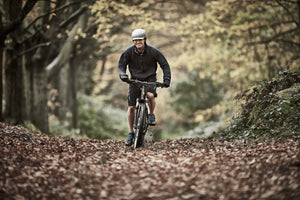 Can eBikes go on trails?
A common question among cyclists: can eBikes go on trails?
Particularly if you've never owned or used an eBike before, you may have a lot of questions about them; including one very common question: can eBikes go on trails?
Can eBikes go on trails?
It's a fairly common misconception that eBikes are similar to scooters or motorbikes, and therefore adhere to the same rules and regulations regarding road safety and compliance. 
However, in reality, eBikes are just like regular - or manual - bicycles, and can mostly be treated as such. 
In fact, there are very few differences in regards to the regulations surrounding eBikes and manual bikes and, indeed, the way they look. 
The most prominent visual differences between eBikes and manual bikes are: 
The motor

The battery

The display screen
Alongside this, the most noteworthy differences between eBike and manual bike rules and regulations are: 
The rider must be at least 14 years old

The rider must be aware of and comply with any speed limits in place when riding your eBike
Other than these, eBikes and manual bikes are very similar; it's the riding experience itself that's very different and, in our humble opinion, is much better on an eBike! 
Therefore, when answering the question: can eBikes go on trails? the answer is yes! eBikes can go on trails just as and where a manual bicycle would; in fact, you may find your eBike is able to conquer bike trails with much more ease, and certainly more speed!, than a manual bike - and we know from experience that eBikes can go a lot faster than a regular bicycle. 
eBikes provide cyclists with a more accessible way of enjoying bike rides; power assist makes cycling much easier and less strenuous, as well as enabling cyclists to travel much further and cycle for longer. 
eBike trails UK: some inspiration
There are so many beautiful, exhilarating, and interesting eBike trails across the UK, 5 of our favourites we detailed in our blog: Top 5 memorable eBike routes. 
However, if you're looking for some more inspiration, here are just a handful more eBike trails in the UK you may wish to try! 
Brecon Beacons (The Long Gap): definitely an advanced eBike trail and not for the faint-hearted, The Long Gap in Brecon Beacons National Park is no less than 22 miles of stunning south Wales countryside. 
Epping Forest: there are so many incredible pockets of countryside and woodland in and around London, and Epping Forest certainly is one of them! Just 12 miles in length, Epping Forest may not have any traditional bike or eBike trails but it does have many accessible pathways you can comfortably ride along. 
Sticks Pass and Helvellyn: the Lake District. Wherever you go and whatever you do, the Lake District is exceptionally stunning, and Sticks Pass and Helvellyn is no exception. An 11.6 mile (approx.) loop trail near Glenridding, Cumbria, Sticks Pass and Helvellyn may be considered relatively difficult, but the experience, and the views!, certainly make the hard work worth it. 
In short, yes - eBikes can go on trails and above are some wonderful eBike trails you may one day wish to explore! 
To browse our range of eBikes, please visit our online shop.