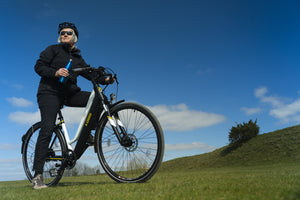 What to look for in an electric bike
If you're hoping to purchase your first electric bike or replace your current eBike, you may be wondering what to look for in an electric bike
What to look for in an electric bike comes down to all sorts of lifestyle and personal preferences; including your height, build and the way you wish to use your eBike. For example, are you a regular city commuter or are you more likely to use your electric bike to enjoy weekend adventures in the countryside? 
Whatever the answer, there's an electric bike for you. So, to help you choose the right eBike for you, we'll go through some of the key points of what you should be looking for when buying an electric bike. 
What to look for in an electric bike
Type of electric bike: There are all sorts of different types and styles of eBike on the market and each one will be most suitable or unsuitable for you depending on how you plan to use it or on your own cycling ability. For example: 
Step through eBikes: A step through electric bike is easier to mount & dismount. This is because they allow cyclists to 'step through' the frame, whilst offering the most upright cycling position. Due to this, step throughs are also considered the most accessible electric bikes available to older cyclists, cyclists with limited mobility or those recovering from minor injuries. 
Folding eBikes: A folding electric bike does exactly that! Folding eBikes are therefore easy to store, typically lightweight, and particularly easy to carry & transport; making them the ideal electric bike for city/long distance commuters who rely on public transport or cyclists passionate about taking your eBikes on new and far away adventures - where your electric bike will need to easy fit in the boot of your car. 
Off road eBikes: An off road electric bike, otherwise known as an electric mountain bike, is typically built to withstand and easily tackle more challenging terrain such as steep hills; narrow, rocky or uneven paths and cycleways, forests & woodland etc. and therefore come with fatter tyres, lightweight frames, and can be slightly larger in frame. All this provides you with a study and reliable eBike you feel comfortable and confident taking off road. 
Hybrid eBikes: A hybrid electric bike is a cross between a road bike and a mountain bike. Therefore, hybrid eBikes are an ideal choice for all-purpose cycling and are often used by commuters, while being suitable for trekking on cycle ways and tracks.  
Inside leg/suitable height measurements: eBikes come in different frame sizes in the same way that manual bikes do so it's important to know how best to get the right size electric bike for your height and build. Understanding your inside leg measurements against the size of an eBike is the easiest and simplest way to do this. 
To help you, there are lots of eBike size charts out there, and many eBike product descriptions include frame measurements and/or minimum recommended heights. 
For example, our new X-Cross range - both the 450 and 520 - included minimum recommended cyclist heights, frame measurements, AND an easy-to-following eBike size guide video to help you fully understand whether our eBikes are suited to your height & build. 
Warranties, guarantees & repairs: Although it may not be at the front of your mind when excitedly looking for your new eBike, it's important to consider what happens after you've bought your bike; can you get the bike replace or repaired, or the parts fixed if they go wrong in the future? Will the brand you're purchasing from help you maintain your bike? Carefully reading the smallprint - i.e. part warranties & guarantees, and servicing & repairs - will help you understand a) where you stand should you encounter a problem with your eBike in the future, and b) how you'll be supported to maintain your eBike in order to get the very best from it for years to come. 
Product & brand reviews: When looking for an electric bike, always carefully read the product and brand reviews. Paying close attention to reviews helps you understand the overall quality of the eBike in question, and any issues that may have immediately arisen from other buyers, as well as any positive experiences or aspects other buyers just like you have experienced with the eBike or with the brand in general. Reviews also provide you with an insight into the reputation of the brand as a whole and the overarching customer experience; if the majority of reviews are 5 star and compliment the electric bike in question as well as the brand selling it, you know you're onto a good thing! 
To browse our range of available eBikes, please visit our online shop.