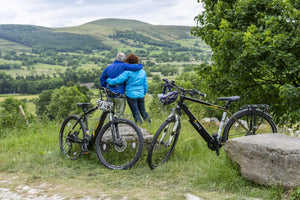 Are e bikes worth it?
eBikes are becoming increasingly popular, but are e bikes worth it?
Particularly during the last few years, e bikes have become increasingly popular; with leisure cyclists and commuters alike, but are e bikes worth it? 
Are e bikes worth it? 
An e bike - or electric bike - is a bicycle frame that includes a battery, motor, and acceleration mode; assisting you to pedal faster and further, particularly up hills. 
What's more, most eBikes like those offered via Mark2 Electric Bikes also enable you to remove the battery and ride as you would a manual bicycle, depending on your needs - providing you with flexibility and choice. 
These are just some of the benefits of owning an eBike that serve to answer the question are e bikes worth it. 
But what are some of the other benefits that make e bikes worth it? 
Accessibility: accessibility is a huge benefit of eBikes. Due to the battery and motor providing assistance where necessary, eBikes are generally much easier to ride than a manual bike, meaning that anyone who may be recovering from an injury or live with limited mobility will be far more likely to be able to ride an eBike than a manual bicycle.
Conquering steep hills: even the fittest cyclists can sometimes find steep hills difficult to climb on a bicycle! Thanks to the power assistance of an eBike, steep hills don't have to be difficult or avoided; enabling you, not only to conquer those steep and/or intimidating hills, but also experience places you may not have otherwise considered venturing on a manual bike. 
A practical option for commuters: for anyone who commutes to work; whether on the train, by bus, by car or on foot, an electric bike can be a great option for making the journey shorter, more manageable and, overall, more enjoyable! Commuting using an eBike is also an effective way to fit in valuable exercise to your working day without over-exerting yourself. What's more, some electric bikes, such as the E-Motion Cruiser, fold - making them easy to carry and store. 
Better for the environment: riding an eBike to work or to the local nature reserve is also much better for the environment than taking the bus, train, or driving a car. 
eBikes are a fun, efficient, and effective way to exercise, see new places, conquer new terrains, and even get to and from work without the stress of being stuck in traffic or packed into a cramped train carriage. 
So, are e bikes worth it? We certainly think so!
To browse our range of eBikes, please visit our online shop.