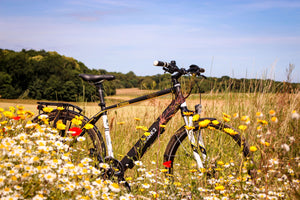 How reliable are e bikes?
If you're considering purchasing an eBike but have never had one before, you may be wondering: how reliable are e bikes?
E bikes have been gaining popularity in recent years; due to their accessibility, cost saving implications, low impact on the environment, and ability to help cyclists tackle challenging terrains with ease - but how reliable are e bikes?
How reliable are e bikes?
Powered by an electric motor, eBikes are less expensive to run than a traditional car or an electric car; making them the ideal option for anyone conscious of their impact on the environment or, indeed, looking for ways to save money every month. 
Whilst this doesn't directly make them more reliable than a car, it does mean that they need less upkeep and maintenance. 
A Mark2 Electric Bike battery, for example, will only need to be kept charged to half full during those weeks or months - such as winter - when you may not be using it. Meaning a quick charge once or twice a month will keep it going for those times you're out on it everyday. 
What's more, depending on how often you use your eBike, it will only need servicing every 6 - 12 months, provided the bike hasn't experienced any damage and/or is in need of repair. 
Keeping your eBike clean will also ensure it remains reliable, as things like excessive dirt and rust - like any bike, manual or otherwise - will contribute to the overall 'health' of your electric bike. 
Alongside this, eBikes are also an ideal option for cyclists who wish to tackle challenging terrains like steep hills or rocky landscapes. Their gear system, power assistance, and sturdy frames mean cyclists can conquer difficult hills with ease, making them a particularly reliable mode of transport for the more adventurous cyclists out there! 
Many eBike brands, such as Mark2 Electric Bikes, also provide you with the option of pedalling your eBike without the battery meaning that there's no risk of being left unable to use your electric bike in the unlikely event the battery runs out of charge. 
Essentially, when kept clean, charged, and serviced semi-regularly, eBikes are an incredibly reliable mode of transport. 
 To browse our range of electric bikes, please visit our online shop.